Stefan van der Lugt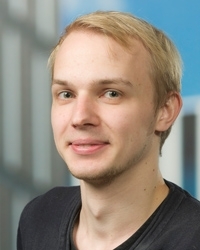 About me
I am a PhD student at the Mathematical Institute of Universiteit Leiden. My supervisor is Robin de Jong. My office number is 225.
Contact info
E-mail address:
click here to show
Things I wrote
Talks
Tautological classes and forms on moduli spaces of curves - in the Algebra, Geometry and Number Theory seminar, September 2019, Universiteit Leiden
The ring of tautological differential forms - at the DIAMANT symposium, April 2019, Veldhoven
Riemannoppervlakken en overdekkingen - in the bachelor seminar Algebra, Geometry and Number Theory, Spring 2017, Universiteit Leiden.
Selmer groups and Tate-Shafarevich groups - in the seminar Rational points on elliptic curves organized by Peter Bruin and Manolis Tzortzakis.
Teaching
Seminars, conferences, summer schools, etc.
DIAMANT Symposium, De Bilt, November 2019
Masterclass: Elliptic Motives, Stockholm, May 2019
DIAMANT Symposium, Veldhoven, April 2019
DIAMANT Symposium, Veenendaal, November 2018
Intercity Seminar on Arakelov Geometry, Copenhagen, September 2018
Tropical Geometry Seminar, Leiden, Spring 2018
DIAMANT Symposium, Breukelen, November 2017
Algebraic Geometry with "Fancy" Coefficients, Caen, November 2017
Néron models seminar, Leiden, Fall 2017
IRTG 1800 Summer School, Texel, August 2017
Arakelov geometry and diophantine applications, Grenoble, June 2017
DIAMANT Symposium, Breukelen, May 2017
Logarithmic Geometry, Leiden, Spring 2017
DIAMANT Symposium, Soest, November 2016
IRTG 1800 Summer School, Vlieland, August 2016
Algebraization Theorems, Île de Tatihou (Normandy), July 2016
Arakelov theory and automorphic forms, Berlin, June 2016
DIAMANT Symposium, Veenendaal, May 2016
Rational points on elliptic curves, Leiden, spring 2016
DIAMANT Symposium, Lunteren, November 2015
Étale cohomology seminar, Leiden, fall 2015 & spring 2016
Moduli stack seminar, Leiden, fall 2015
Algebraic Stacks and Related Topics, Mainz, September 2015